Peruvian Lomo Saltado recipe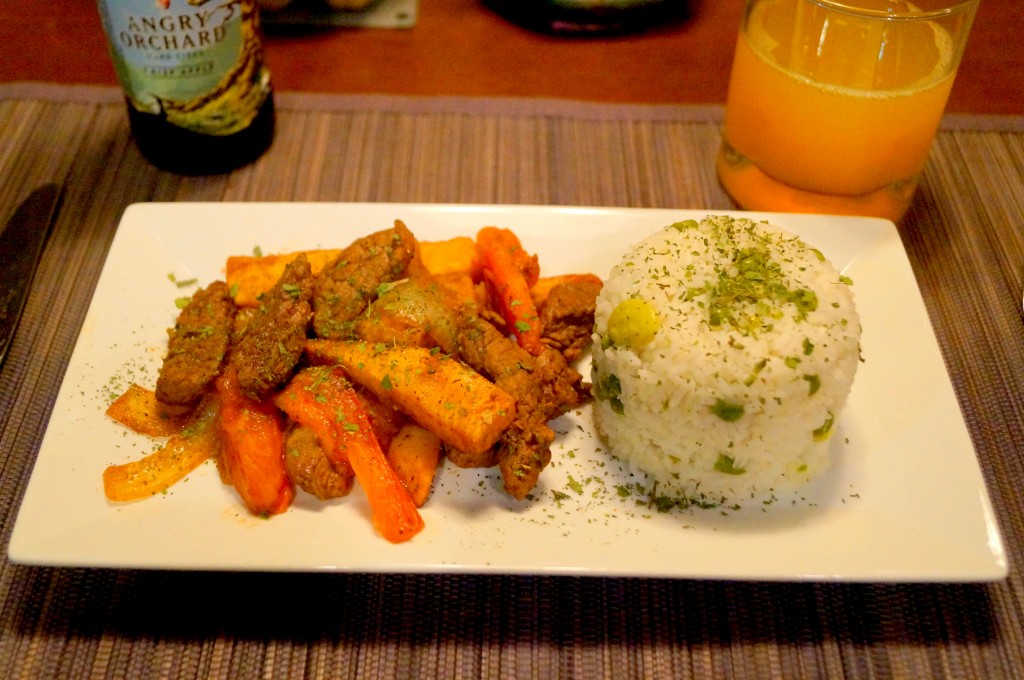 This peruvian lomo saltado is one of my favorite dishes. Hope you enjoy!
Prep time: 15 minutes
Cook time: 15 minutes (The potatoes may take 15 mins on the oven but they cook while you cook the main ingredients)
Serves: 4
1 (16 ounce) package frozen French fries
vegetable oil as needed
1 pound beef tri-tip (sirloin), sliced 1/8 to 1/4 inch thick
salt and pepper to taste
1 large onion, sliced into strips
3 large tomatoes, peeled, seeded, and sliced into strips
1 yellow chili pepper (preferably Peruvian aji amarillo) (I normally dont put this but you can try!)
1/4 cup distilled white vinegar
1 dash soy sauce to taste
2 tablespoons chopped fresh cilantro (I use dried cilantro for speed)
Prepare the bag of French fries according to package directions.
While the French fries are cooking, heat the oil in a frying pan over medium-high heat. Season the sliced meat with salt and pepper to taste and fry until just cooked (very rare) and the juices begin to release. Remove the meat from the frying pan.
Then, cook the onions, with additional oil if needed, until they are transparent. Stir in the tomato and aji amarillo(optional). Then cook until the tomato softens.
Pour in the vinegar and soy sauce, add the French fries, cover, and cook until the beef is done (about a couple of mins). Season to taste with salt and pepper, and sprinkle your rice and "lomo" with the cilantro to serve.
About the rice: I prefer jasmine white rice with peas. Cook to your preference.
Bonus: put a fried egg on top and see how much of a difference it makes!!!