Baked Salmon on Salsa Verde and Rosemary Potatoes
Quick meal and full of flavor!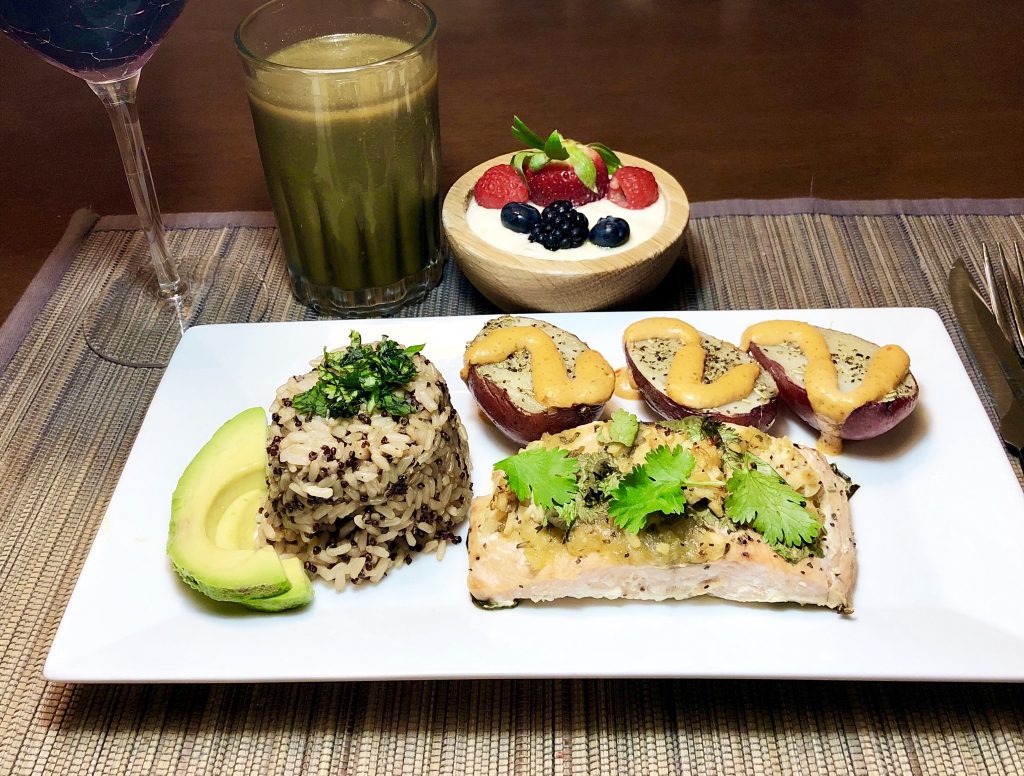 Ingredients for Salmon:
Frozen Salmon
Spinach
Minced garlic
Green Mexican salsa
Fresh or dried Cilantro
Minute ready to serve brown rice and quinoa (I get it at Target)
Salt
Pepper
Ingredients for Potatoes:
Instructions:
– Heat oven at 425 degrees
– Defrost salmon (you can leave on the fridge for a day or just put over cold water for 10 mins).
– Place foil on a baking pan.
– Place a bed of spinach on it.
– Place salmon over the spinach
– Apply a coat of green salsa
– Sprinkle minced garlic over it
– Place a few cilantro leaves over it.
– Salt and pepper to taste
– Cut the red tomatoes in half
– Place around the salmon
– Sprinkle olive oil over them
– Sprinkle salt, pepper, rosemary and garlic to taste
– Bake for 25 minutes
– Prep the brown rice per instructions (microwaves in 1 minute)
– Once ready:
– Slice some avocado on the side
– Place some fresh cilantro leaves on top of salmon. You should also dice some cilantro very finely and sprinkle on top of rice.
– Place a little rocoto sauce (imported from Peru) or if not, use a bit of habanero sauce over the potatoes or serve on the side if people don't like food too spicy.
Optional: Place some avocado on the side.
Finally, smiles, good company and good wine!