Pesto Chicken Penne with Balsamic Ranch Kale Salad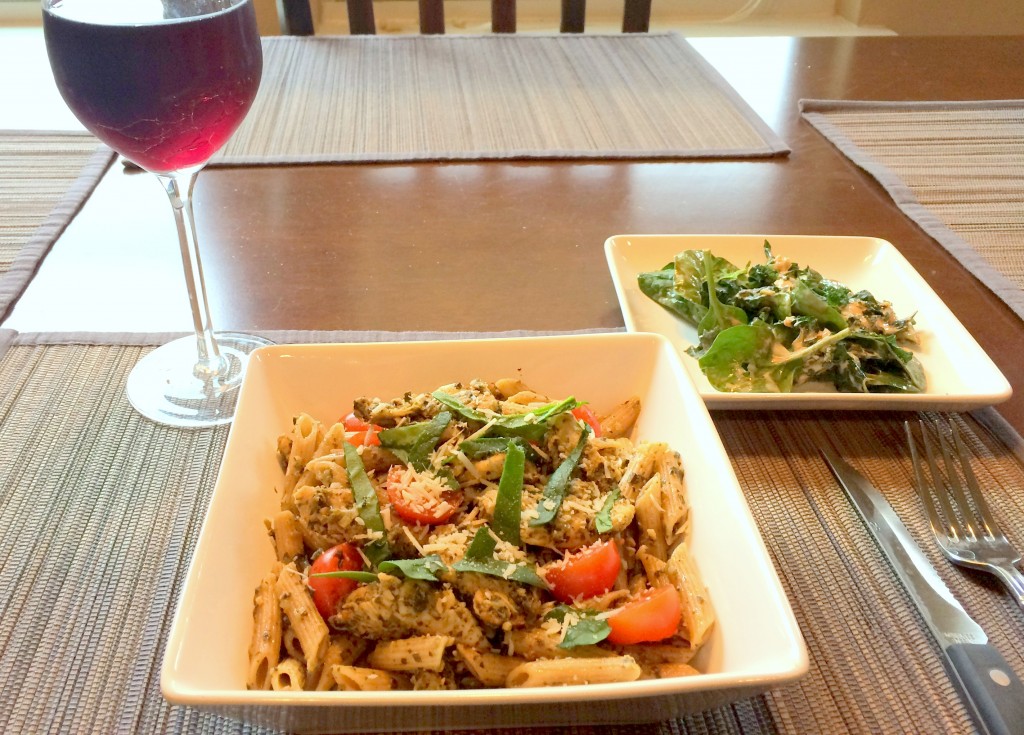 This is one of my favorite fast dishes to make. It can be prepped and cooked in less than 25 mins!
Ingredients for pasta:
13 oz whole wheat penne pasta (or more to preference)
Olive oil
1 small white onion diced finely
3 garlic cloves (Or the equivalent in minced form) diced finely
1 pound of chicken breast cut in small fajita pieces (You can avoid cooking chicken and save even more time if you use a fully cooked rotisserie chicken instead)
Salt, pepper, turmeric
1 Basil Pesto Sauce jar (8 oz jar or larger)
Grape tomatoes
Shredded parmesan cheese
Ingredients for salad:
Fresh kale
Fresk Spinach
Balsamic vinegar
Bolthouse salsa ranch (or regular ranch).
Ingredients for a good time:
Some good sangria
Good music
Hungry kiddos, good friends and family to share!
Boil your pasta. While pasta is boiling, dress the chicken with salt, pepper and a little turmeric. Grill the chicken with olive oil in medium-high temp until done. On a separate pan and at medium heat, grill the onion and garlic with some olive oil until caramelized. Stir often so garlic does not burn. Apply more olive oil if mixture seems dry. Grill for 5 minutes, then, gradually pour the pesto sauce over it. Stir for a minute and then pour the chicken pieces over the sauce. Stir for another minute, then pour the mixture over the cooked and drained penne pasta, Mix well.
To serve: Cut a few grape tomatoes in half and place over pasta on individual plates. Cut slits of spinach and sprinkle over the dish (some people use fresh basil but I prefer spinach). Top with shredded parmesan cheese and voila!
Salad: Add a splash of balsamic vinegar to your ranch mixture and mix well with salad. This gives the salad a distinct flavor.