Baked Salmon Meatballs with Creamy Avocado Sauce Recipe
These baked salmon meatballs were a hit for the kiddos. I found this online and modified it a slight bit… Its fast to prep and cook. You won't be disappointed!!! 🙂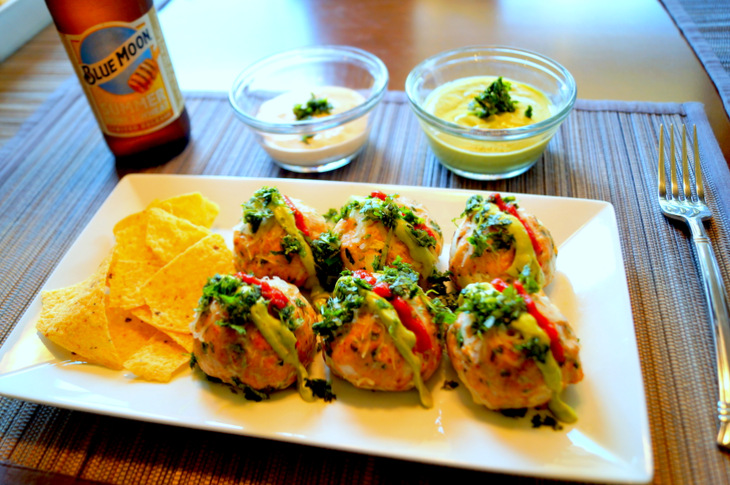 Ingredients
The meatballs:
1 lb. skinless salmon, cut into chunks
½ medium onion, grated
¼ cup of breadcrumbs
4 tbsp minced cilantro
2 egg whites
2 garlic cloves, minced
¾ tsp salt
½ tsp ground pepper
½ tsp paprika
½ tsp oregano
Some grated mozzarella cheese.
The sauce:
¾ avocado
3 tbsp plain Greek yogurt
1 clove garlic, minced
½ lime, juiced
7 tbsp water
2 tbsp minced cilantro
¼ – ½ tsp of Sriracha (or any other spicy pepper to your liking)
¼ tsp salt, or to taste
¼ tsp ground pepper
Instructions
The meatballs:
Preheat the oven to 350 degrees F. Coat a large baking sheet with cooking spray.
Place the salmon in the bowl of a food processor. Pulse until finely chopped. Transfer to a large bowl.
Mix the salmon with the onion, breadcrumbs, cilantro, egg whites, garlic, salt, pepper, paprika and oregano. Stir to combine.
Using a 2 tablespoon portion of the salmon mixture, form meatballs by rolling between the palms of your hands. Place the meatballs on the prepared baking sheet, spacing evenly.
Bake for 15 minutes. Pull and place mozzarella cheese on top of each meat ball. Continue baking.
Bake until the meatballs are firm to the touch and cooked through for another 4 minutes.
Serve the meatballs with the avocado sauce and spicy sauce (Sriracha or your preferred one) over them and sprinkle more fresh minced cilantro over them.
The sauce:
In the bowl of a food processor or blender, combine the avocado, yogurt, garlic, lime juice, water, cilantro,  Sriracha (or hot peppers), salt and pepper. Blend until smooth.
 Grab your favorite wine or beer and enjoy!!! (Remember to drink responsibly and UBER! lol)