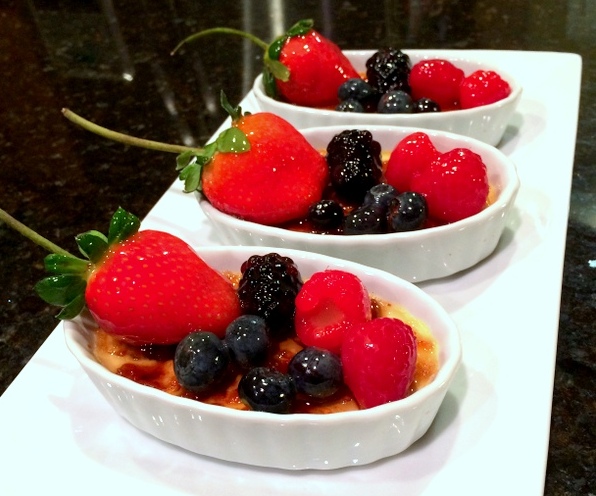 Creme Brûlée with Glazed Fruit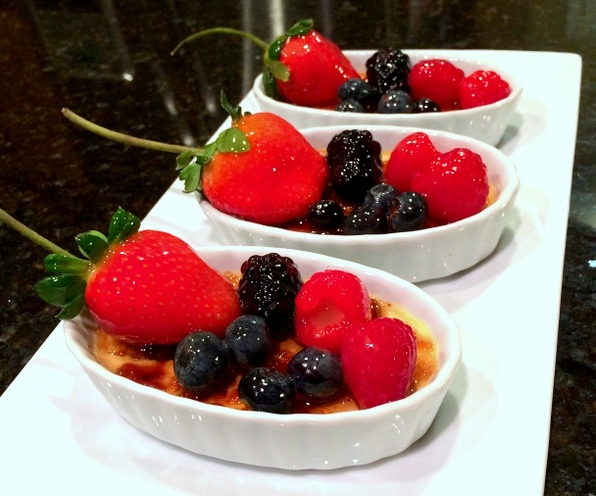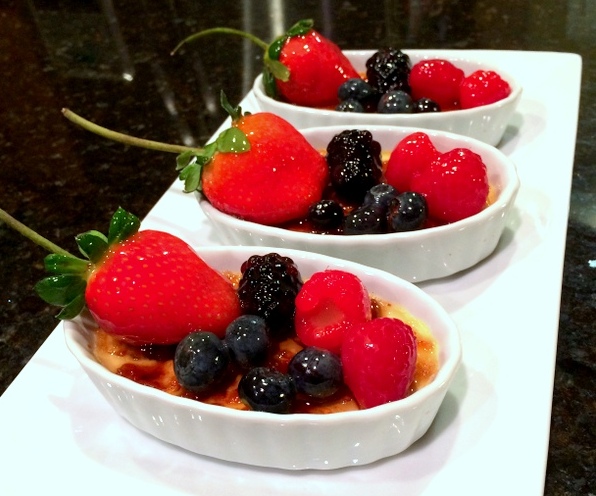 For custard:
2.5 cups of thickened or heavy cream
1 Teaspoons of vanilla extract.
1 Teaspoon of chirimoya extract
6 Egg yolks
1/3 of a cup of sugar
Some brown sugar & a blow torch (oven will work if no blow torch). You can get a torch at Bed Bath and Beyond or Amazon for less than $20
For glazed fruit:
Strawberries
Blackberries
Raspberries
Blueberries
3⁄4 cup orange juice
1 tablespoon cornstarch
3 tablespoons sugar
Prepare custard:
Preheat oven to 300 degrees F (150 degrees C).
Beat egg yolks, 4 tablespoons white sugar and vanilla extract in a mixing bowl until thick and creamy.
Pour cream into a saucepan and stir over low heat until it almost comes to boil. Remove the cream from heat immediately after it develops a film
Stir cream into the egg yolk mixture. Pour a very small amount first and stir. This process is called "tempering" so you don't cook the egg. Continue pouring and mixing until all combined.
Strain in to a jug
Use the blowtorch to remove any bubbles. You can use a spoon if you don't have a blowtorch.
Pour cream mixture into the ramekins.
Bake in preheated oven for 35 minutes. Remove from oven and cool to room temperature. Refrigerate for at least 1 hour or overnight.
To caramelize custard (with blowtorch)
Sift brown sugar evenly over custard
Use blowtorch to melt sugar. Wait 30 secs and do another pass on each ramekin.
To caramelize custard (with no blowtorch)
Preheat oven to broil.
Sift brown sugar evenly over custard. Place dish under broiler until sugar melts, about 2 minutes. Watch carefully so as not to burn.
Remove from heat and allow to cool. Refrigerate until custard is set again.
Prepare glaze
Combine fruit juice and cornstarch in a 2 cup microwave-safe measuring cup.
Stir in sugar
Microwave for 2-2 1/2 minutes at High, stirring once, until thickened.
Cool for 5 minutes, then dip the fruit on the glaze and place over the custard and you are done!